Wild Friends Student-Led Projects and Legislation
2022: Outdoor Classroom Funding Bill (SB 32/HB 2) (passed)
During the 2022 legislative session, students successfully supported Senate Bill 32 (SB32) sponsored by Senator Siah Correa Hemphill, a funding bill asking for $500,000 to create an outdoor classroom program in the Public Education Department. SB 32 was later folded into House Bill 2 (HB 2), the state's overall budget bill and was sent to the Governor's desk, which she signed in March.
2021: Outdoor Classrooms Memorial (SM 1) (passed)
This year Wild Friends students worked on
Senate Memorial 1
. The Memorial proposed an Outdoor Classroom Task Force for New Mexico, as well as a day for outdoor learning designated by the Governor!
2020: Creation of the Pollinator License Plate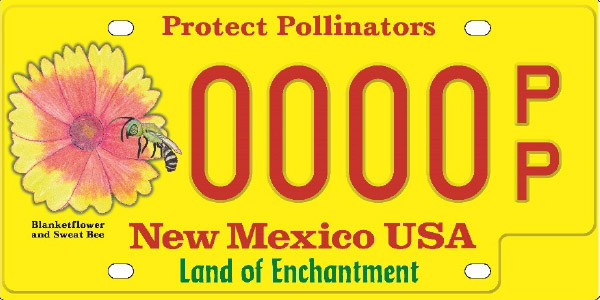 In the fall of 2019, Wild Friends students were invited to submit illustrations for a contest to create the new license plate. The students were tasked with creating a design that represented the relationship between a plant and pollinator native to New Mexico. We rolled out the winning design on the new pollinator license plates in Spring 2020, and it now appears on license plates across New Mexico!
You can purchase your own pollinator licenses plate on the
NM MVD website
. Scroll to find the pollinator license plate and print the corresponding PDF. Mail the necessary information and payment to the address listed on the PDF.
2019: Pollinator-Protection License Plate (SB 234) (passed)
The bill will create a license plate to fund pollinator protection projects on New Mexico's highways. Featuring pollinator art by students, proceeds from plates will go to the New Mexico Department of Transportation to plant native flowers and grasses. NMDOT will also create demonstration gardens with educational signage at rest stops.
2018: Pollinator-Friendly Plant Labelling Project
During the 2017-2018 school year, Wild Friends students worked to improve and increase habitat for pollinators through the Pollinator-Friendly Plant Labelling Project. Students researched pollinator-plant pairs and contributed art and information to the Wild Friends Pollinator Friendly Plant Guide, and shared the guide with nurseries in Farmington, Silver City, and Albuquerque. Thousands of pollinator-friendly plant guides and plant stakes were distributed to 20 local nurseries in nine communities, as well as to botanical gardens, nature centers, and cooperative extensions across New Mexico! This work was the result of SJM4, passed by the NM State Legislature in 2017.
2017: Pollinator Friendly Plants Memorial (SJM 4) (passed)
This memorial helps protect pollinators through a voluntary plant labeling project at local nurseries around the state; the creation of a pollinator-friendly garden at the Roundhouse; and the declaration of a second Bee Aware Day.
2016: "Bee Aware Day" Memorial (SM 103) (passed)
Wild Friends students created legislation urging state agencies to protect bees and requesting the Governor declare a "Bee Aware Day."
2015: Protect Wildlife from Drones (SB 82  did not pass, SM 91/HM 81  passed)
The final memorial calls for a study for recommendations to protect non-game wildlife from drones.
Check out Ladera Elementary School and their Drone pictures!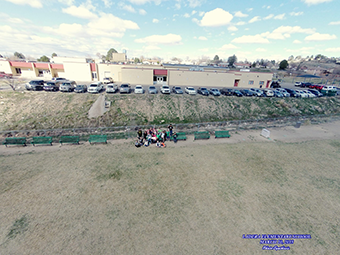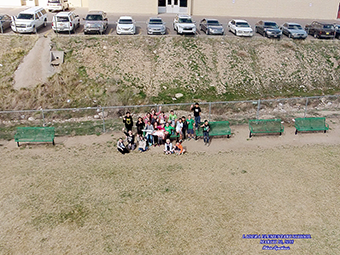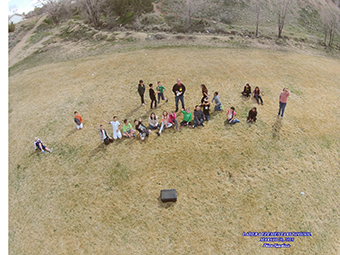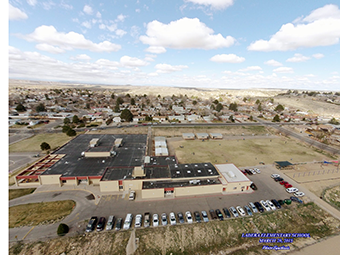 2014: Memorial to Increase Trophy Poaching Penalties (HM 3/SM 14) (passed)

The legislation requested stiffer penalties on trophy poaching.
2013: The Wildlife Safety Zone Memorial (HM 1/SM 11) (passed)
The legislation requested support for safety zones at wildlife crossings on highways.  As a result of the memorial, wildlife crossings were created on various highways including I-25 in Raton.
2012: The Children's Outdoor Bill of Rights Memorial (HM 3/SM 10) (passed)
The memorial asks the state to recognize the rights of children to access to outdoor activities, and encourages state agencies to develop outdoor programs for children.
2011: Wildlife Safety Zone Project (HJM 10) (passed)
The memorial asks state agencies to work together to create a pilot project for a wildlife safety zone in an area of high wildlife-vehicle collisions
2010: Native Pollinators Memorial (HM 4/SM9) (passed)
The legislation requesting state government agencies, public schools, and colleges use pollinator-friendly plants in landscaping projects. 
2009: Wildlife Corridors and Identify Crucial Habitats Memorial (HJM 4) (passed)
Wild Friends created a memorial to support the identification of wildlife corridors and crucial habitats, using existing resources and the assistance of diverse groups.
2008: Expand State Capitol Recycling Memorial (SJM 20) (passed)
Wild friends passed a memorial to expand the recycling program at the state capitol.
2007: Global Warming Memorial (HM 64) (passed)
The legislation lays out ways that state government and citizens can save energy to help slow the effects of climate change.
2006: Ban Computer Hunting Bill (SB 157) (passed)
New Mexico became one of the 21 states to ban the practice of hunting animals with computers.
2005: Study to Increase Penalties for Killing Game Bill (HJM 18) (did not pass)
The memorial requested a study on increases in penalties for wasteful trophy hunting.
2004: Wildlife Crossing Memorial (HJM 21) (did not pass)
The memorial asked the New Mexico Congressional delegation to request support for identifying wildlife crossings on highways.
2003: State Butterfly Bill (HB 13) (passed)
The Wild Friends students passed legislation making the Sandia hairstreak the New Mexico state butterfly. 
2003: Reduce Wildlife-Vehicle Accidents Memorial (HJM 3) (passed)
State officials were requested to take action to reduce vehicle-wildlife accidents on New Mexico roads.
2002: Butterfly Memorial (HJM 1) (passed)
Wild Friends asked the state to name the Sandia hairstreak the state butterfly.
2002: Prairie Dog Memorial (HJM 13) (did not pass)
The memorial requested recommendations for a survey of the black-tailed prairie dog in New Mexico.
2001: Wildlife Violator Compact Bill (HB 174) (passed)
The bill required the State of New Mexico to join the Wildlife Violator Compact, an agreement between 47 member states to promote compliance with the laws and rules related to wildlife management.
2000: Wildlife Violator Compact Memorial (HJM 50) (passed)
Wild Friends asked the state to study the potential for New Mexico to join other states in the Wildlife Violator Compact.
1999: Wild Animal Cruelty Prevention Memorial (HJM 34) (did not pass)
The memorial requested a study of options to prevent cruelty toward wildlife.
1998: State Whooping Crane Day Declared (HJM 12) (passed)
The memorial asked the governor to declare a State Whooping Crane Day.