Kid Lobbyists! UNM Programs Teaches Environmental Advocacy
November 5, 2018
For the past 25 years, 4th through 12th grade students participating in the University of New Mexico's Wild Friends of New Mexico program have learned about nature and civics through first-hand research and political advocacy.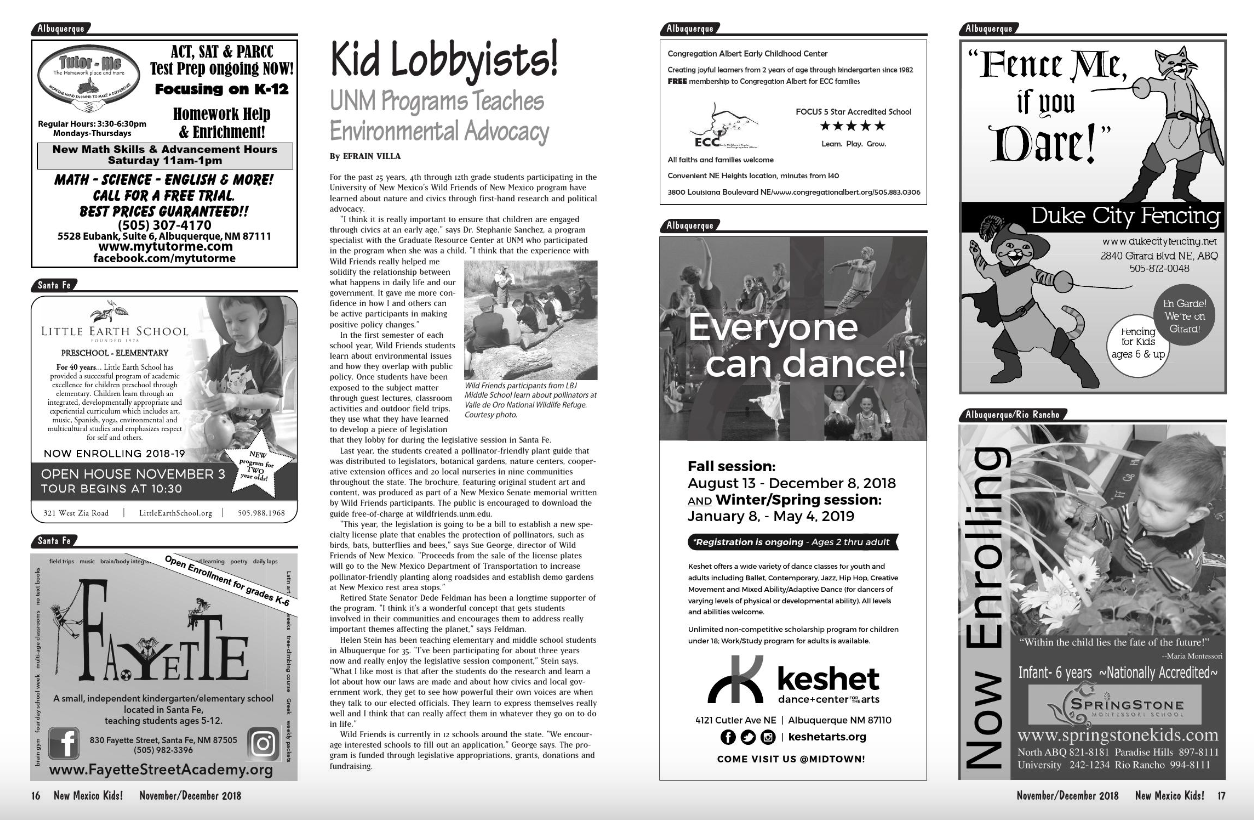 "I think it is really important to ensure that children are engaged through civics at an early age," says Dr. Stephanie Sanchez, a program specialist with the Graduate Resource Center at UNM who participated in the program when she was a child. "I think that the experience with Wild Friends really helped me solidify the relationship between what happens in daily life and our government. It gave me more confidence in how I and others can be active participants in making positive policy changes."
In the first semester of each school year, Wild Friends students learn about environmental issues and how they overlap with public policy. Once students have been exposed to the subject matter through guest lectures, classroom activities and outdoor field trips, they use what they have learned to develop a piece of legislation that they lobby for during the legislative session in Santa Fe.
Last year, the students created a pollinator-friendly plant guide that was distributed to legislators, botanical gardens, nature centers, cooperative extension offices and 20 local nurseries in nine communities throughout the state. The brochure, featuring original student art and content, was produced as part of a New Mexico Senate memorial written by Wild Friends participants. The public is encouraged to download the guide free-of-charge at http://wildfriends.unm.edu/
"This year, the legislation is going to be a bill to establish a new specialty license plate that enables the protection of pollinators, such as birds, bats, butterflies and bees," says Sue George, director of Wild Friends of New Mexico. "Proceeds from the sale of the license plates will go to the New Mexico Department of Transportation to increase pollinator-friendly planting along roadsides and establish demo gardens at New Mexico rest area stops."
Retired State Senator Dede Feldman has been a longtime supporter of the program. "I think it's a wonderful concept that gets students involved in their communities and encourages them to address really important themes affecting the planet," says Feldman.
Helen Stein has been teaching elementary and middle school students in Albuquerque for 35. "I've been participating for about three years now and really enjoy the legislative session component," Stein says. "What I like most is that after the students do the research and learn a lot about how our laws are made and about how civics and local government work, they get to see how powerful their own voices are when they talk to our elected officials. They learn to express themselves really well and I think that can really affect them in whatever they go on to do in life."
Wild Friends is currently in 12 schools around the state. "We encourage interested schools to fill out an application," George says. The program is funded through legislative appropriations, grants, donations and fundraising
Download full New Mexico Kids! issue here.